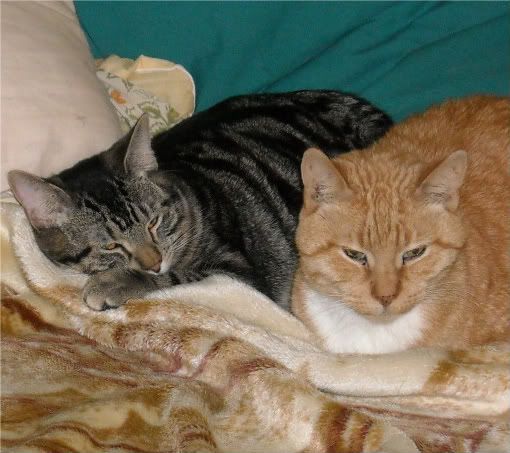 18 years of purring love.
18 years of snuggles at night.

The last of the Mississippi animals.

He was a bastard of a cat. He bit me as much as he rubbed against me. He scratched me as much as he quietly merowed at night when I finally came to bed with him. He ran away once and was gone for eight months until, by chance, I saw him sitting in front of a house a block away. He ate those huge Mississippi roaches and caught mice and once left half of a mouse on my pillow. On my bed. For me. He brought me an unscratched, unharmed baby bunny from a field. He never hissed at new kittens/cats/puppies/dogs brought into our house, into our family ~ he was always the first animal to sniff, lick and reassure. He slept on my shoulder *every* night. Sometimes to the point of pissing off those few human men that have shared my bed because he would not move. He went through periods of refusing to use the litterbox, but it was always my fault for not cleaning it enough. He taught me patience. He gave me love and adoration without limit.

I've had him around since my oldest daughter was turning four years old, August 19th, 1991 and all she wanted for her birthday was an orange kitten.

Two months ago he started losing weight. Four days ago he stopped eating. Two nights ago he was vomiting blood and today he went to a better place. Where he'll be waiting for us.

Lori and I took him to the vet together. And together we petted and held and whispered to him as he went to sleep for the last time.

I'm relieved that he's out of pain. I'm happy that he's not hungry. I'm sure that he's warm and comfortable and snoozing in the sun.

And I will miss him forever.